Download Now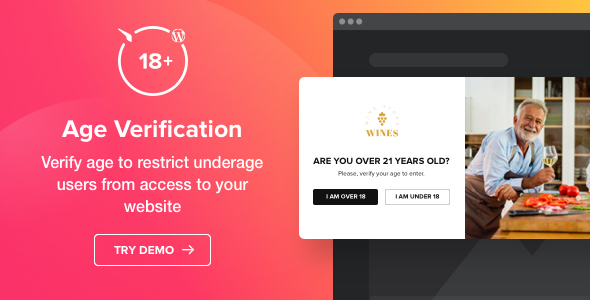 Elfsight Age Verification – Responsive age-gate plugin for WordPress websites
Some types of sites require age verification based on the law. Elfsight Age Verification will offer you a stylish and convenient WordPress widget for this purpose!
This Age Verification splash page appears when a user visits your site. Using our plugin, you can show your site content only to a certain group, make your content available to adult users, and hide it from underage visitors.
The best WordPress Age verification plugin just for your needs!
Elfsight plugin will provide you with a variety of customization options and ready-to-use layouts to create an age-gate plugin for your entire site or exact products at your online store.
This plugin is your choice if
you want to automatically control the age of your website visitors
you need to be sure about the legal compliance on your site
you want more target audience and valid customers
you don't want to code age verify plugin
you are looking for a working solution worth its price
Don't miss the opportunity to check all features here! Run a live demo here.
Our Age Verification plugin for WordPress websites is fully optimized for mobile devices, fully SEO-friendly (the plugin does not block content indexing for more effective optimization) and supports all major browsers.


Make age check as convenient as possible
With Elfsight Age Verification, you don't need to rack your brain over how to verify age on your WordPress site. We offer a well-designed plugin, which will verify the age of a user and open access to your site only if they are full-aged. In our plugin, there are several ways to achieve it. You can choose the period during which the plugin will remember the user and skip re-checking for better usability. You can also restrict access to particular pages rather than the entire site. Explore all the features of the Age Verification plugin below:
List of the Age Gate plugin features:
Show a pop-up age verification or upload a superimposed background image to hide the website content;
Adjust age limit;
Display age verification on all websites or on a specific page
Choose one of three verification methods: date of birth, year of birth, and a question with the " Yes " and "No" options.
The ability to remember a user for any amount of time in a day
Draw overlay and pop-up backgrounds to your taste
Set a redirect URL and much more!
Watch and try our demo to evaluate all the features of the Age Verification plugin
Find out more useful Elfsight plugins to make your website efficient!
Most of our users combine several plugin for the best performance of their sites or online stores, because what could be easier! In a couple of clicks, add all the plugins you need. No restrictions! Here are the bestselling plugins for your WordPress:
More user-friendly Forms on your website in a few clicks
Create a stunning Instagram Feed right on the website
Use interactive PopUps to announce sales or get more subscribers
How to add Age Verification to WordPress
It is very easy to embed the plugin on your site. You just need to follow these actions to enjoy the work of our Age Verify plugin:
Following the purchase of the plugin, download its zip file.
Upload the setup zip to your website. IMPORTANT! While at this step, make sure you are uploading not the whole plugin zip, but just WordPress installable zip.
Go to the main menu and visit the plugin settings section. Construct your Age Verification, then personalize its interface managing Live Plugin Editor. When your Age Verification plugin is customized, you will be given your personal shortcode. Copy the code.
Paste that shortcode of your plugin into the area of your website where you want to introduce your new plugin. All done! Now the Age Verification is up and running!
Still haven't checked the plugin live? Start immediately on the Age Verification page!
FAQs
Q: Can I use only default images for the background?
A: Absolutely not! You can use images from our collection or upload your own one to the verification window. Also you can use a custom overlay background image to hide the website content.
Q: Can I demonstrate my website's terms in my Age Verification Form?
A: Sure! To do it, you need to use an additional info box which supports all well-known formatting options – weight, lists, align and can also redirect users to other areas of your website or even some external resources.
Q: What's the best way of confirming the age of my visitors?
A: You can request only the year of birth of your visitors and the plugin will automatically calculate if a visitor is full aged according to the limits that you set.
Q: Is there an option to verify users' age only at the specific pages?
A: Certainly! You can limit only the content of the required products' pages. Also, you can select a period, during which the plugin will remember a visitor and skip recurrent verification for higher uses convenience.
Change Log – new version 1.1.0 is available for download
September 08, 2020 – Version 1.1.0
### Added
 * Date format option
 * New Support Form

### Fixed
 * Fix issue with the where to display option
 * Fix responsiveness issues
July 11, 2019 – Version 1.0.1
### Fixed
 * The issue when verification didn't save and the window came up on every page again is now fixed
Download Now