Download Now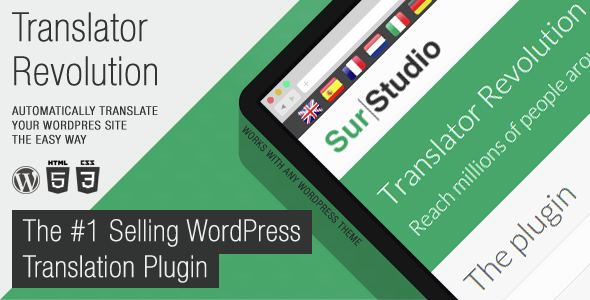 Ajax Translator Revolution WordPress Plugin
Translator Revolution WordPress Plugin is a user-friendly, highly customizable WordPress translation plugin. It works making it simple to get started, but powerful enough to create highly customized translator setups.
This is an automatic translation plugin, which means that you won't have to spend countless hours manually translating your website. It can take a up to a minute, yes a single minute, to have it running and have your website in multiple languages, is that simple.
Compatibily
The content in a website comes from many different sources, is usually created by a website builder, a slider, menus, grids, pop ups, a calendar, pop ups, tables, forms, a portfolio, galleries, etc… Unlike other translation plugins, Translator Revolution WordPress Plugin doesn't require all these sources to be built according to the WordPress Codex for internationalization. This ensures that all the pages, posts, custom post types, tags, categories, widgets, plugins and theme can and will be translated (unless specified otherwise), without hassle.
Easy to use
Integrates directly with the WordPress Admin System.
Tabbed admin panels with organized easy-to-find settings and integrated help.
Import and export functions.
Modify translations.
Supported languages
A total of 103 languages are supported for automatic translation: Afrikaans, Albanian, Amharic, Arabic, Armenian, Azerbaijani, Basque, Belarusian, Bengali, Bosnian, Bulgarian, Catalan, Cebuano, Chichewa, Chinese Simplified, Chinese Traditional, Corsican, Croatian, Czech, Danish, Dutch, English, Esperanto, Estonian, Filipino, Finnish, French, Frisian, Galician, Georgian, German, Greek, Haitian Creole, Hausa, Hawaiian, Hebrew, Hindi, Hmong, Hungarian, Icelandic, Igbo, Indonesian, Irish, Italian, Japanese, Javanese, Kannada, Kazakh, Khmer, Korean, Kurdish, Kyrgyz, Lao, Latin, Latvian, Lithuanian, Luxembourgish, Macedonian, Malagasy, Malay, Malayalam, Maltese, Maori, Marathi, Mongolian, Burmese, Nepali, Norwegian, Pashto, Persian, Polish, Portuguese, Punjabi, Romanian, Russian, Serbian, Sesotho, Sinhala, Slovak, Slovenian, Somali, Samoan, Scots Gaelic, Shona, Sindhi, Spanish, Sundanese, Swahili, Swedish, Tajik, Tamil, Telugu, Thai, Turkish, Ukrainian, Urdu, Uzbek, Vietnamese, Welsh, Xhosa, Yiddish, Yoruba, Zulu.
Getting help
Support. Fast and competent. When you need help or have a question, you just want the answer ASAP. You won't need to register to a 3rd party plataform, nor you'll get a ticket number as you won't need it to demand attention. A simple message from the profile page will be enough. Customer Support is the top reason of 5 Star ratings, check the Reviews tab. So you can rest assure you'll be assisted not only in a timely manner, but your expectations will be fulfilled too.
User interface
The default location of the translation bar is on top of the website. And it can be also used as a widget. If your theme doesn't have a widget area in the location you want, then there's no problem as you can use the custom positioning settings to place it anywhere.
Highly customizable
Translate everything, or precisely select and/or exclude sections from the web pages.
Exclude entire pages, posts and categories.
Remember visitor's selected language.
Show languages flags and names, or just names, or just flags.
A total of 87 settings to customize.
Supported translation services
SurStudio Translate API (gateway to Google Translate, although is free for buyers).
Google Translate API (paid).
Advanced features
Specify the number of concurrent calls. Useful for large web pages to find a balance between the translation time and the browser's resources to consume.
Define Javascript custom functions callbacks.
Define a custom translator by specifying the HTML code and attaching the functionality.
Template system to highly customize the default HTML structure.
Latest update
Added new 12 new languages.
Added new option to grant permissions to edit translations based on user roles.
Previous updates
Added new option to load arbitrary javascript code before initializing the translator.
Added new option to translate the placeholder attribute.
Added new 28 new languages.
Added new option to show or hide either flags and language names depending on the device's screen resolution.
Added new panel to make online backups for settings and cached translations.
New admin panel.
Added new option to display languages in their own language.
Added new option to define custom language names.
Added new option to define custom CSS rules.
One minute install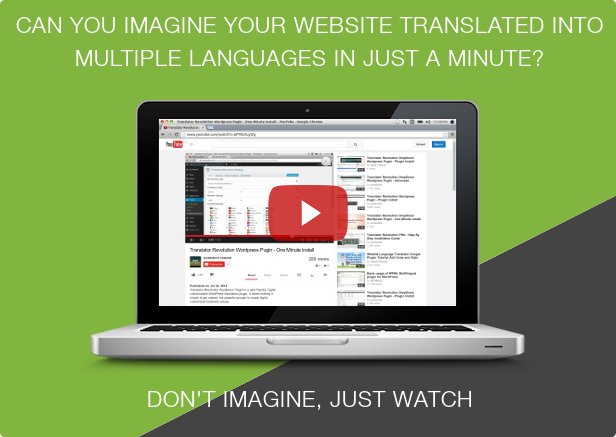 Check out the dropdown styled plugin version
Download Now