Download Now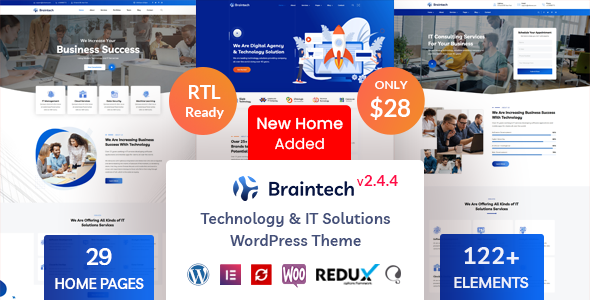 Highlighted Features ( Last Updated: 24 March 2022 ):

Buy One Time & Get Free Updates Forever.
Last Updated: WordPress 5.9.x / Elementor 3.6.x / WooCommerce 6.1.x
One Click Demo Import: All Images & Icons Included.
WordPress 5.x Compatible
Elementor: #1 Drag & Drop Editor & Live Editing WordPress Page Builder Used.
RTL Support Ready.
WooCommerce Demo Included.
WPML – Full Multilingual Support.
29 Demo Home (15 Multi + 14 One page) & 64+ Awesome Inner Pages.
More Demo Pages + Features Coming.
Braintech – Technology & IT Solutions WordPress Theme is top-notch technology & creative IT theme. By using this theme anyone can build IT/Software Services, any Business, Apps, SaaS, Data Center, Data Mining etc. It comes with modern designed 29 Pre-build Home Pages and many built-in awesome inner pages such as Services, Portfolios, About, Contact, FAQ, multiple blog layouts etc.
We also used The World's #1 Leading WordPress Page Builder – Elementor Page Builder. It's about time for a live page builder, with no limits of design. A page builder that delivers high-end page designs and advanced capabilities, never before seen on WordPress.
By using this theme anyone can build his own website "No coding skill required". Anyone can change site colors / other settings from theme settings. Only single click – demo data will be installed. If any issue arise during installation – our reliable support team always ready to give support.
Features:
29 Creative, Trendy & Unique Demo Homepages
Child Theme Included
05 Blog & Single Post Page layout well designed
About Page Layout
Contact Page Layout
150+ Addon Elements: We included 200 plus elements with theme. So you can easily manage your site without any hassle.
Unlimited color Option: We added backend color option so you can easily change your color throughout the full site also every addon has individual color option so you can manage addon color also separately if you need.
One Click Demo Installer Included: You can easily import demo data using one click demo import. So you don't need start form scratch just import demo data and you can customize site.
Responsive Layout: Our theme also 100% responsive that's why it will work nicely on all smart devices(smart phones, tablet, PCs and desktops)
Elementor Page Builder: Elementor Page Builder is #1 drag and drop page builder & live editor that will help you to create any layout you can imagine fast and easy. No coding skills required!
Revolution Slider: This slider plugin can show any kind of media with highly customizable transitions, effects and animations. So you can make any kind of slider easily as like you want
Redux Framework: Redux is a simple, truly extensible and fully responsive options framework for WordPress themes and plugins.
Powerful Theme Options: Using theme option you can change many things easily. As like logo, favicon, header style, footer style, color etc.
Off-canvas Menu
SEO Friendly: We used yoast seo plugin for working onpage seo.
Bootstrap 4.x
Google Fonts
Flaticons Used
Supports All Modern Browsers
Theme Update: After first purchase you can download updated theme any time without any cost.
Well Documentation Included
Quick Support: If you need any help or any questions, please contact directly from our themeforest account. Our support team always ready to help you quickly
Images Used From Following Sites:
https://pixabay.com/
http://freepik.com/
https://unsplash.com/
https://www.pexels.com/
https://loading.io/
Change Logs
24 March 2022 (Version 2.4.4)

- Updated: RSElements Plugins(v1.0.3). For working with latest version with Elementor (3.6.x)  you have to update this plugin.
- Added: 01 Demo  Homepage (Helpdesk Solutions)

03 March 2022 (Version 2.4.3)

- Updated: Updated Bundle Plugins
- Added: Into theme options added options for hiding featured banner

16 February 2022 (Version 2.4.2)

- Added: team members ordering options
- Added: Options for disabling team link

01 February 22 (Version 2.4.1)

- Added demo portfolio single using elementor

29 January 22 (Version 2.4.0)

- Added option for hiding Footer top CTA from the single portfolio page.

18 January 22 (Version 2.3.9)

- Added: Banner Hide Options both Theme Options & Page
- Fixed: Onepage Menu close on mobile

10 Jan 2022 (Version 2.3.8)

- Into our theme options - Braintech options - added option for hiding skill and team bio so that anyone can edit with elementor.
- Updated Bundle Plugins
- Compatible with latest version of WordPress.

23 Dec 21 (Version 2.3.7)

- Updated Bundle Plugins
- Compatible with latest version of WordPress.

09 Dec 21 (Version 2.3.6)

Added: Blog Author link option into blog & single post and also author link options in addons
Update: Bundle plugins

12 Nov 21 (Version 2.3.5)

Update: Bundle plugins

4 October 21 (Version 2.3.3)

Fixed: Topbar Icon Issue
Fixed: Theme Core plugins issue
Update: Bundle plugins

26 September 21 (Version 2.3.2)

Fixed: Portfolio Data Dynamic Issue
Fixed: Phone Number Links Issue for Default Header
Fixed: Rselements plugin issue
Update: Bundle plugins

30 Aug 2021 (Version 2.3.1)

Added: Sticky Header Dots color Option for Mobile
Update: Bundle plugins

26 Aug 2021 (Version 2.3)

Added: Two New Home Page
Update: Bundle plugins

29 June 2021 (Version 2.1)

Fixed: Mobile Sticky Header Issue
Fixed: Slider Problem at Home 13 and 12
Update: Bundle plugins

21 June 2021 (Version 2.0)

Added: New Demo Home Added
Update: Bundle plugins

19 April 2021 (Version 1.9.1)

Fixed: Dynamic Color Issue
Update: Bundle plugins

19 April 2021 (Version 1.9)

Fixed: Sticky Menu Issue
Fixed: Footer Icon Issue
Update: Bundle plugins

4 April 2021 (Version 1.8)

Fixed: Menu description
Fixed: Icon issue
Added: Option for enable disable contact information
Update: Bundle plugins

18 March 2021 (Version 1.7)

Added: One Multi home and One page home (Web Agency)
Update: Bundle plugins

17 Feb 2021 (Version 1.6)

Added: One Multi home and One page home (Dark version added)
Update: Bundle plugins

21 Jan 2021 (Version 1.5)

Added: Two new Multi home and One page home
Fixed: Some Bug
Update: Bundle plugins

7 Jan 2021 (Version 1.4)

Added: One new Multi home and One page home (Gadgets Repair)
Update: Bundle plugins

30 Dec 20 (Version 1.3)

Added: One new Multi home and One page home
Update: Bundle plugins

22 Dec 20 (Version 1.2)

Added: One new Multi home and One page home
Added: RTL Compatibility 
Added: WPML
Fixed: Dynamic Color Issue
Fixed: Responsive Issues
Update: Bundle plugins

21 Dec 20 (Version 1.1)

Added: WooCommerce 
Added: 05 One page demo
Fixed: Dynamic color issue
Update: Bundle plugins

19 Dec 20 (Version 1.0)

 Initial release

Download Now