Download Now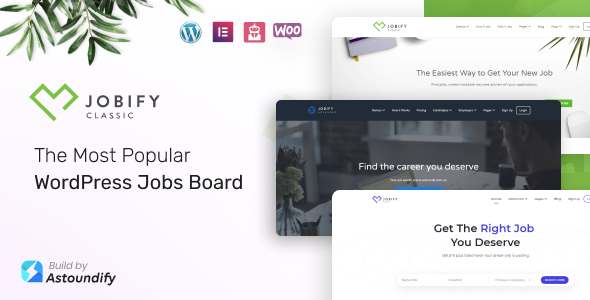 Finding a Job Just Got Easier
Creating a job listing website has never been easier with Jobify — the easiest to use job board theme available. Create a community of employers and prospective employees.
Simple live searching and filtering makes finding relevant jobs easier than ever.
A fully customizable homepage means you control the layout of your website.
Charge a fee for job listings, and easily monitor and approve submissions.
Create Your Job Site in Minutes
Famous for it's five-minute install, WordPress may be the part that takes the longest – installing the plugins and Jobify is fast and easy. You'll be connecting businesses with people actively looking to fill positions immediately.
Resume Support Lets The Search Engine Do The Work
Today's job search isn't people reading and reviewing resumes manually. They let search engines scan and find key phrases in resumes. Jobify supports candidate resumes, so that employers, recruiters, and prospects can find each more quickly. (Plugin sold separately).
Powerful Features in the Palm of your Hand
Like everyone else, your users carry their phones with them everywhere they go. Now they can browse job listings in the palm of their hand. Jobify is mobile-friendly with responsive functionality that allows users to search jobs, submit a listing, and more.
Get Started Now
Connecting people using Jobify couldn't be any easier:
A company submits a job listing with details about the position and their company.
A prospective employee visits the site, searches the interactive map, filters the results, and applies for the job of their dreams.
Site administrators can require a subscription or a one-off payment to create a job listing.
Jobify Features
Integrates with Mike Jolley's free WP Job Manager plugin—The first fully integrated theme of its kind!
Integrates with Resume Manager plugin which allows candidates to upload/post resumes to your site, or post manually. (Plugin sold separately).
Integrates with the Listing Payments which allows you to create custom job packages which can be purchased or redeemed during job submission. Note: This can only be used to sell job packages and not be set up as an entire store. (Plugin sold separately)
Integrates with the popular Slider Revolution Responsive WordPress plugin. (Plugin sold separately).
Integrates with the popular free NinjaForms plugin so users can submit resumes from a convenient pop-up modal.
Integrates with the famous GravityForms plugin so users can submit resumes from a convenient pop-up modal. (Plugin sold separately) Optional.
Beautiful & Clean, Responsive Design (Optimized for iPad and iPhone)
Big, Stunning Typography
Crafted for Retina Displays
WordPress Theme Customizer Support
Full Design Customization i.e. Logo, Background, Text Colours
Page Templates (Home, Testimonials, Pricing)
Contact Form Support (JetPack Forms, Contact Form 7, Gravity Forms)
Custom Shortcodes (Register, Login, Jobs, Job Dashboard, Job Summary, and more)
WordPress 4.6+ Ready (Menus & Featured Images)
XML Dummy Content Included For Easy Setup
Full Localisation Support (contains .po/.mo files)
Extensive Documentation
Changelog & Update History
To ensure there is no downtime or incompatibles with your website you should always install theme updates on a staging server first. This will allow you to make the necessary adjustments and then migrate them to a production website.
= 4.0.6: May 16, 2022 =
Fix: Category filter issue resolved.
= 4.0.5: April 13, 2022 =
Fix: Layout issue resolved for Skin-1.
= 4.0.4: March 08, 2022 =
= 4.0.3: November 11, 2021 =
Add: Appointify plugin compatibility.
= 4.0.2: November 02, 2021 =
Fix: Listing layout issue.
= 4.0.1: November 01, 2021 =
Fix: Widget loading issue resolved.
Fix: Error appear on classic skin content reset.
Add: Embed feature requests submission link in theme setup.
Fix: Color pallet issue in Skin 2.
= 4.0.0: September 30, 2021 =
Add: New skin added "Skin 2"
= 3.20.0: July 20, 2021 =
Add: Related Resume Support for Jobify Extended.
Fix: Required form validation issues.
Fix: Design issues with Elementor – Post your Job (Elementify)
= 3.19.2: June 8, 2021 =
Fix: Latest version of Gravity Forms conflicting with the theme.
Fix: Remove Google plus in Social Media Profiles from Jobify Theme.
Fix: Company Listing plugin causing UI related issue on Jobify skins.
= 3.19.1: March 30, 2021 =
Fix: Search filter issue on mobile.
= 3.19.0: March 25, 2021 =
Add: Jobify new skin-1 along with Elementify compatibility.
Fix: Demo import halts during the import process.
Fix: PHP warning for widgets compatibility.
Fix: Compatibility WP 5.7.
= 3.18.0: February 01, 2021 =
Fix: WP 5.6 and PHP 8 compatibility.
Fix: Select2 jQuery plugin issue.
Fix: Job Listing Data attributes HTML issue.
= 3.16.0: October 14, 2020 =
Add: Page title on widgetized page template.
Update: Job dashboard styling, make it mobile responsive.
Update: Job alert display to be responsive.
Fix: PHP warning for testimonials plugins deprecated function.
Fix: PHP warnings on search category when query not passed as an array.
Fix: Demo import halts during the import process.
= 3.15.0: July 15, 2020 =
= 3.14.0: April 15, 2020 =
New: Xing social media profile in footer menu.
New: Job tables responsiveness.
New: Resume download widget styling.
Fix: The wrong input type for media widget.
= 3.12.0: July 1, 2019 =
Update: Support for WP Job Manager 1.33.2.
New: Instagram URL for Company Social Profile.
Fix: The save action on the Search Hero Widget.
Fix: Company Logo Structured Data Issue.
= 3.11.1: January 31, 2019 =
Fix: Further WP Job Manager support.
Fix: Resume Region archive support.
= 3.11.0: January 27, 2019 =
New: WP Job Manager 1.32.0 support.
Fix: Ensure asset URLs work on all server environments.
= 3.10.0 September 10, 2018 =
New: Remove hypens by default.
New: Default all WordPress login URLs to WooCommerce account page.
Fix: RTL Chosen dropdown support.
Fix: Reset recent blog post query.
Fix: Category text overflow for active category.
Fix: "Companies We've Helped" logos on mobile.
= 3.8.6: May 17, 2018 =
New: Show company name in Job Spotlight
Fix: Fall back to entered address is unable to format.
Fix: Avoid PHP error on registration form.
Fix: Update registration form styles.
Fix: Allow company slider autorotation to be disabled.
Fix: Hide duplicate Ninja Form buttons on job listing page.
Fix: Do not link "Anywhere" text to Google Maps.
= 3.8.6: April 10, 2018 =
Fix: WooCommerce 3.3.5 compatibility.
Fix: Remove duplicate Gravity Form on single job listing page if needed.
Fix: Avoid error when deactivating Polylang.
Fix: Ensure asset versions are updated.
Download Now