Download Now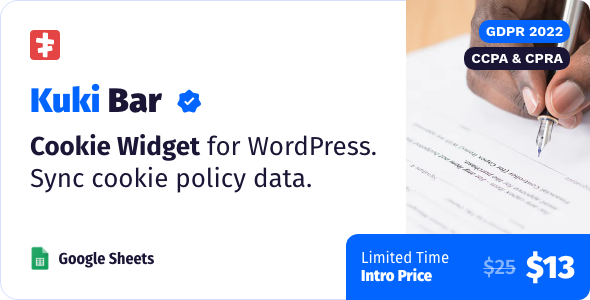 Kuki Bar is a WordPress plugin that allows you to collect and keep a prof of consent with fun!
In GDPR 2022, it's a legal requirement. We offer you to add a beautiful cookie bar on your WordPress site and anonymously sync cookie policy data with Google Sheets.
Open source
Fully customizable
Easy setup and usage
New GDPR 2022 compliance
CCPA & CPRA compliance
Sync with Google Sheets (optionally)
Multilingual support (WPML and Polylang compatible)
Export cookie consent as CSV
WordPress 5.0+
Works with PHP 7+ and 8+
Lightweight. No jQuery or other libraries
Tested with WordPress 6.0
Requirements
This is a WordPress plugin and it requires:
PHP 7+ or PHP 8+
WordPress 5.0+
Technology
Kuki Bar loads itself once your website is loaded. It shows up a widget that collects your visitors' consent. Once visitors set or update the consent state, the plugin creates a unique token and stores the visitor settings in cookies, your database (in separated table i.e. wp_kuki_consents), and Google Sheets.
The cookie consent is stored in the visitor's browser for seven days, or your custom expiration time.
The plugin collects and syncs visitors' OS/browser info (i.e. MacOs Catalina, Safari 15), device type (i.e. mobile), IP addresses, accepted and declined services, and created & updated dates.
GDPR 2022
The Consent Solution is a legal requirement and, regardless of the number of users, each website must keep a proof of consent. In other words, in order to demonstrate that consent was collected in line with the law, you must always be able to retrieve this information: When consent was given By whom the consent was given What preferences have been expressed Legal or privacy notices in effect when consent was collected Which form was filled in at the time of consent Official European document GDPR (see no. 108).
CCPA & CPRA Compliance
Kuki Bar is a GDPR-friendly widget but also CCPA and CPRA compatible. It can do more can do less. If we can comply with European legal obligations, then complying with the CCPA will be a formality!
Download Now