Download Now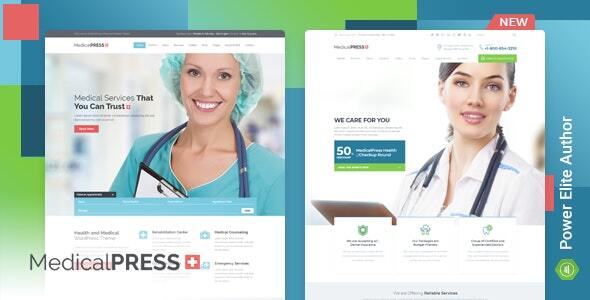 MedicalPress is a handcrafted WordPress theme for Health and Medical industry. It is a highly suitable theme for doctors, dentists, hospitals, health clinics, surgeons and other types of health organizations.
It has purpose oriented design, responsive layout, and special features to manage contents for Medical and Health websites.
Easy & Extensive Theme Options  —   MedicalPress theme has a comprehensive set of theme options that will help you configure and modify things around your website.
Responsive Design  —   MedicalPress theme is built in twitter bootstrap, So it has a fully responsive layout. Using this theme your website will look awesome on big screens as well as on tablets and smartphones.
WooCommerce Compatible  —   MedicalPress theme is compatible with WooCommerce plugin which enables you to easily add an ecommerce shop to your website.
Translation Ready and WPML Compatible  —   MedicalPress theme is translation ready and compatible with WPML plugin. So, You can build your website in multiple languages.
Visual Composer Compatibility  —   MedicalPress theme is compatible with Visual Composer plugin and this plugin is included within the theme package for free.
It is important to note that none of the demo pages are built using visual composer instead it is an extra facility that you can use to build your own custom pages.
Search Engine Optimized   —   MedicalPress is handcrafted and its HTML is written keeping in mind your sites good ranking on search engines.
Forms with Google reCAPTCHA Support  —   MedicalPress theme includes Google reCAPTCHA integration to prevent spam messages from appointment forms* and contact form.
Revolution Slider Included  —   MedicalPress theme comes loaded with revolution slider support, So you can create powerful and great looking slides.
Google Fonts Support  —   MedicalPress theme provides theme options to change the site fonts to any Google font.
Various Styling Options  —   MedicalPress theme provides easy to use style customization options within theme options. So, you can change the backgrounds and colors throughout the site.
Child Theme Included  —   MedicalPress theme comes with full support for child themes and one sample child theme is included as part of the package.
Easy and Comprehensive Documentation  —   Easy to understand and detailed documentation is included as part of the theme package. It will help you set up the theme quickly and get your most questions answered right away.
List of Features
Purpose Oriented Design
Fully Responsive Layout – Built in twitter bootstrap
Full Localization Support – Contains RTL styles and PO and POT files
WPML Plugin Compatibility
Easy and Extensive Theme Options
Easy to Use Meta Boxes
Theme Options comes loaded with Many Styling Options. So, you can change colors and backgrounds of almost everything.
You can change the text fonts to Any Google Font
Nicely designed news page with post formats support
Doctors Templates

2 Columns Doctors
3 Columns Doctors
4 Columns Doctors
Nicely designed doctor detail with related doctors listing

Sortable Gallery Templates

2 Columns Gallery
3 Columns Gallery
4 Columns Gallery
Gallery Item Type Page with Gallery Layout
Gallery Item Detail Page with Slider Support

Services Templates

1 Column Service
2 Columns Services
3 Columns Services

FAQ Templates

FAQs Template – with sidebar
FAQs Full width Template

Various Other Templates

Home Page Templates

1 – with full width content support
2 – with various theme options to customize the homepage

Contact Template – With Google Map and AJAX Contact Form Support
Appointment Template
Full Width Template

Various Custom Post Types (powered with easy to use meta boxes)

Doctors
Services
Gallery Items
FAQs
Testimonials

MedicalPress is also compatible with Contact Form 7 Plugin – So you can add your own custom forms if needed.
Child Theme included in the theme package
XML Import File Included
Easy to Understand and Detailed Documentation Included
Theme Support
We dedicated support staff and support for all our themes is provided through our support site.
Visit our Support Site | How to get ?Item Purchase Code?
Recent Updates
Version 3.5.0 – Updated on 17th May 2021
Added ADA compliance options
Added doctors working hours option
Added more home doctors section controls
Added Elementor CTA banner widget
Fixed redux admin side button styles
Fixed reborn testimonials section title issue
Fixed departments pagination issue
Fixed nav menu dropdown issue on cellphones
Fixed some header notices
Version 3.4.0 – Updated on 10th December 2020
Fixed swipebox lightbox issue accured in WP 5.6 update
Fixed post/page dashboard listing issues
Fixed banner title html tags support
Fixed gallery and FAQs js filtering for RTL
Fixed select style for default appointment variation
Improved filtering functionality for translations
Improved date picker calendar for previous dates
Improved translation files
Added arabic translation
Version 3.3.0 – Updated on 11th October 2020
Added appointment form widget for the Elementor plugin
Added sticky header variation for reborn variation
Fixed gallery arrows issue
Improved styles on various places
Version 3.2.0 – Updated on 7th July 2020
Added Elementor page builder compatibility with supported plugin
Added Contact Form 7 support for contact page template
Updated related WooCommerce templates
Fixed flex slider nav issue
Version 3.1.0 – Updated on 22 September 2019
Must read if you are using version older than 3.0
Changed the text domain to theme slug as per the latest requirements
Changed search from to default wp_search_form()
Improved MedicalPress menu backend control
Improved maps related script, properly enqueued as well
Improved audio player script, properly enqueued as well
Improved sidebars visibility control
Improved excerpt on several places using wp_trim_words()
Improved gallery listing Lightbox functionality
Improved reborn appointment form footer injection
Improved attributes using the_title_attribute()
Improved dynamic CSS functionality
Improved Content width and Embed support
Improved escaping
Improved code by added function_exist checks
Improved block editor styles
Improved contact page template code
Improved default dropdown menu placement
Added Open Street Maps support
Added Doctors dropdown support to appointment forms
Added page specific banner control, improved related functions
Added department taxonomy description on the single term templates
Added doctors top filters show/hide control
Added logo backward compatibility
Added Call to action section in default variation
Added post_classes using related filter
Fixed Swipebox affecting all images issue
Fixed Features on slider overlapping issue
Fixed appointment form over sticky header issue
Fixed datepicker issues
Updated WooCommerce templates
Version 3.0.0 – Updated on 19 April 2019
Related article for the existing users
Moved basic functionalities in MedicalPress Utilities plugin
Added basic gutenberg blocks compatibility
Improved overall styles
Added reborn doctors listing social icons
Added theme options control for doctors listing social icons display
Version 2.1.0 – Updated on 19 December 2018
Improved Security by adding Escaping and Validation
Improved escaping for translation strings
Improved Styles for slider on mobile view
Added Gutenberg block editor support
Added reCaptcha for default design appointment form variation one
Fixed Reborn FAQs appearance issue
Version 2.0.3 – Updated on 17 October 2018
Fixed home page read more buttons text visibility issues
Version 2.0.2 – Updated on 16 October 2018
Added Italian, French, Spanish and Turkish Translation Files
Added excerpt support for services
Added transition to tabs widget
Added slider contents plus sign control
Added 'Read More' control in theme options
Added URL Slugs support for doctors and services
Added excerpt count control for reborn skin
Added filter settings for News/Posts section
Added WPML language switcher for Reborn skin
Added translation support for Doctors and Services slug
Added hover with theme options control for doctors and services
Fixed comments closed visibility issue
Fixed autocompletes
Fixed reCaptcha translation issue
Fixed pagination issue
Fixed PHP 5.5 compatibility issues
Fixed responsive menu issue for ipad
Fixed slider contents issue
Fixed styling issue for WooCommerce
Improved FAQs filter animation
Improved Styles
Version 2.0.1 – Updated on 8th June 2018
Added GDPR Checkbox support for contact and appointment forms with related theme options to enable/disable and customize it.
Fixed few styles issues.
Updated translation files.
Version 2.0.0 – Updated on 30th May 2018
Added a fresh design variation named "Reborn".
Added one click demo import for both design variations.
Added retina ready logo support.
Updated reCAPTCHA to reCAPTCHA V2.
Improved theme options.
Updated font-awesome to font-awesome v5.0.8.
Various fixes and improvements across the theme.
Updated translation files.
Updated documentation as per latest changes.
Updated included plugins.
Version 1.6.1 – Updated on 13th October 2017
Fixed slider description issue.
Improved product's zoom, lightbox and slider.
Added various minor fixes.
Updated translation files.
Updated included plugins.
Version 1.6.0 – Updated on 2nd August 2017
Updated code with respect to latest version of WooCommerce.
Added theme options to sort doctors.
Added theme option for appointment's initial response/confirmation message.
Added CC and BCC email addresses support for contact form and appointment form using theme options.
Added theme options to enable/disable banner.
Added Google+ and YouTube social icons for doctor.
Added boxed layout support.
Added horizontal tabs support in existing shortcode.
Improved slider headings.
Improved appointment form by adding support of Thank You page.
Fixed reCAPTCHA issue on SSL.
Fixed star rating issue.
Improved various styles and refactored code at various places.
Updated font-awesome.
Updated translation files.
Version 1.5.2 – Updated on 22nd July 2016
Added RTL styles
Added option for slider button text
Added theme option to hide pagination on services templates
Added Google Maps API key support
Added appointment form shortcode
Added appointment request received confirmation email
Added doctors shortcode
Added news shortcode
Added Visual Composer support for various theme based shortcodes
Improved existing code and styles for various WooCommerce elements
Updated TGM plugin activation class
Updated Visual Composer plugin
Updated Revolution Slider plugin
Updated documentation
Version 1.5.1 – Updated on 29th April 2016
Removed a redux message from dashboard
Improved gallery item detail page code
Updated Visual Composer Plugin
Updated Slider Revolution Plugin
Version 1.5 – Updated on 22nd December 2015
Updated Visual Composer Plugin
Updated Slider Revolution Plugin
Version 1.5 – Updated on 7th October 2015
Added flexibility to display more doctors on home with any number of columns
Improved breadcrumbs and introduced related theme options in header section
Changed blog post dates from modified to published
Fixed menu flickering issue
Fixed related gallery items bugs
Improved some JS code
Updated TGM related code
Improved Tabs Widget
Improved quick CSS and quick JS related code
Fixed slider background appearance bug
Updated WPML configuration XML file and translation files
Improved One Click Demo Importer
Updated Demo Importer Extension
Improved translation support in child theme and changed it?s version to 1.3
Updated Visual Composer Plugin
Updated Slider Revolution Plugin
Version 1.4.1 – Updated on 17th June 2015
Updated Visual Composer plugin
Fixed couple of debug notices
Version 1.4 – Updated on 28th April 2015
Added WooCommerce Plugin Support
Added theme option to enable/disable animation
Improved TGM plugin activation code
Improved meta boxes related code
Updated translation files
Updated documentation
Version 1.3 – Updated on 7th March 2015
Added one click demo importer
Improved contact and appointment forms handler code
Reorganized theme options related to appointment forms
Fixed double title issue
Renamed theme's folder name to avoid conflict with free themes
Modified child theme to match new parent theme name.
Version 1.2 – Updated on 20th February 2015
Added – Visual Composer Plugin Support
Added – Homepage Layout Manager in Theme Options
Added – Theme options to change responsive menu colors
Added – Theme option to change number of blog posts (news) to display on homepage
Added – Theme option to change number of doctors to display on homepage
Added – Testimonial thumbnail placeholder
Added – Theme option to hide plus sign in slider
Added – Theme options to enable or disable breadcrumb
Added – Theme option to enable or disable swipebox lightbox plugin
Added – Custom post types dashboard icons
Added – Shortcode for two third column
Improved – Title tag support in header based on WordPress 4.1
Improved – Toggle and accordion short codes
Improved – Related doctors on single doctor page
Fixed – Redux dev mode notification
Included – PSDs as part of the package
Version 1.1 – Updated on 3rd December 2014
Updated translation file default.po
Version 1.1 – Updated on 27th November 2014
Added – Sticky header feature that can be enabled from theme options.
Added – Support for two columns sub menu
Added – Google reCAPTCHA support in contact form and three appointment forms ( Not added in one appointment form due to design restrictions )
Improved – Breadcrumbs code
Improved – Micro-formats related code
Fixed – Gallery thumbnail double anchor issue
Fixed – Slider height issue during loading
Photos License
Photos used in this theme are for demo purposes only and are not included as part of the theme license.
Download Now