Download Now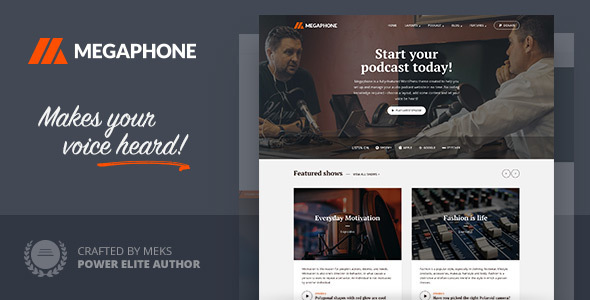 Megaphone is a fully-featured WordPress theme created to help you set up and manage your audio podcast website in no time. A neat solution for both personal podcasts as well as large podcasting networks with multiple hosts and shows. It can also be used for online radio stations with live audio streaming. Audio book websites too!
Support for Spotify, iTunes, SoundCloud, MixCloud, Stitcher, PodBean, Blubrry LibSyn, Spreaker, Cadence, Podomatic, Deezer and many more! No coding knowledge required – choose a layout you like, add content and let your voice be heard!
See what kind of podcast website you can create and who Megaphone WordPress theme is for
Here's a couple of examples to get a quick sense of how you can use it and if Megaphone podcast theme is a good choice for you.
Podcast website with personal touch
Podcast portal (when you need to create comunity portal of other podcasts)
Online Radio stations can use Megaphone podcast theme for audio streaming website
Music websites that have large database of music
You can also check Megaphone theme showcase and see our users in action!
Having questions or wish to learn more about Megaphone theme, we have a huge selection of useful articles which you can easily browse at our Knowledge Base.
Chaneg log
1.5
Fixed: WP 5.8 issue with specific settings to separate podcast episodes and regular blog posts
Fixed: Play button not working on episodes page template
Fixed: Sidebar Ads display issues
Fixed: Several minor styling issues
1.4
Improved: WordPress 5.8 compatibility tweaks (yes,you can update your theme)
Improved: Several onpage SEO tweaks (added noopener tag to several target="_blank" attributes)
Fixed: Elementor page problem fixed
Fixed: Several minor styling issues
1.3.2
Added: New Apple Podcast Icon
Added: Episodes listing page template
Fixed: WP 5.7 Gutenberg editor font size problem
Fixed: Several minor styling issues
1.3.1
Added: Icon for podcast platforms which can be recognized and displayed in the Subscribe menu(Whooshkaa)
Added: Support for (Whooshkaa)(Theme Options -> Podcast -> Player)
1.3.0
Improved: Your website now loads faster because of Google Fonts optimization (switch to new Google Fonts API)
Added: Several icons for podcast platforms which can be recognized and displayed in the Subscribe menu(Deezer,Captivate.fm, Transistor.fm, Wooshakaa)
Added: Support for Deezer, Captivate.fm, Transistor.fm, Wooshakaa (Theme Options -> Podcast -> Player)
Added: Show name is now displayed in the audio player – beside the episode
Fixed: Static home pagination problem
Fixed: Share functionality on Ajax load inside Meks Audio Player
Fixed: Several minor styling issues
1.2.2
Improved: WP 5.5 Compatibility tweaks
Added: Support for Castos podcast hosting
1.2.1
Added: Full Support for Buzzsprout (Theme Options -> Podcast -> Player)
Improved: Custom area functionality
1.2
Power Add: Users can pick and add more Custom areas (Theme Options -> Front Page -> General -> Number of custom content sections )
Power Add: Users can display content from desired page inside Custom area (Theme Options -> Front Page -> Custom content -> Pull custom content from )
Added: Several icons for podcast platforms which can be recognized and displayed in the Subscribe menu(iHeart, TuneIN, Overcast, Ausha, Anchor, Megaphone.fm, iVoox, Simplecast, BuzzSprout )
Added: Support for Simplecast, iHeart, TuneIN, Anchor.fm, Ausha embeds (Theme Options -> Podcast -> Player)
Added: Option to have custom order of Shows (Theme Options -> Podcast -> Shows -> Shows to display)
Added: Option to limit description on Shows (Theme Options -> Podcast -> Shows -> Display description -> Description excerpt limit)
Added: Authors page template option to display guests (Page template: Authors -> Display data from: Host authors / Guests authors)
Fixed: Pagination problem, including infinite scroll pagination problem
Fixed: Multiple authors problem on mobile
Fixed: Several minor styling issues including IE fixes
1.1
Added: Option to switch logic which separates episodes from regular posts if you are using Podlove or Seriously simple podcasting WordPress plugins (Theme Options -> Podcast -> General)
Added: Option to modify the player height (Theme Options -> Podcast -> Player)
Added: Option to display Download button for audio episodes inside the player (Theme Options -> Podcast -> Player)
Added: Several icons for podcast platforms which can be recognized and displayed in the Subscribe menu (Mixcloud, Spotify, Stitcher, Podbean, Libsyn, Spreaker, Cadence13, Podomatic, Blog Talk Radio )
Added: Another "blank" section on the home page which can display any custom content (Theme Options -> Front Page)
Added: Options to choose alternative background color for Featured area and Welcome area on front page (Theme Options -> Front Page)
Added: Support for Megaphone.fm, BuzzSprout and iVoox embeds (Theme Options -> Podcast -> Player)
Added: Option to enable the play button/icon over the episode thumbnail in all episode listing layouts (Theme Options -> Podcast -> Episode Listing Layouts)
Fixed: Play button not working on the page template which listed all shows
Fixed: Several minor styling issues
1.0.1
Fixed: Several minor styling issues
Fixed: template-functions.php throwing errors on specific server/PHP configurations
Download Now