Download Now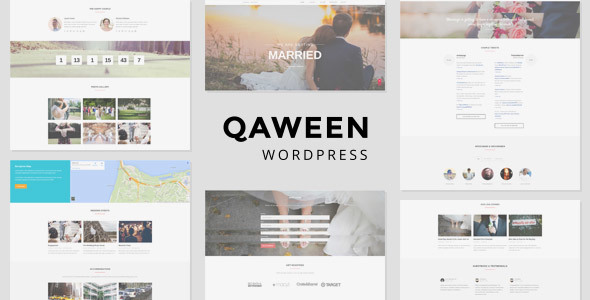 Meet the most feature packed WordPress wedding theme you'll find in ThemeForest!
This is the best time to get the best wedding WordPress theme on ThemeForest for 35% OFF. Buy it now while on discount!
Qaween is a feature-packed WordPress theme that can help you built the best wedding site for you and your couple on top of WordPress platform.
Qaween is highly customizeable, you can change the colors of almost every elements, change the font and choose from 500+ Google Web Fonts available in our theme options.
On top of that Qaween is powered by Redux Framework, a top-notch theme options framework. There are hundreds of options available from the theme options to help you customize the theme. This WordPress theme also comes with built-in AJAX RSVP form, photo gallery, events, countdown timer, slideshow, accommodations and many more.
The word Qaween derived from one of the word in Indonesian "Kawin" which means married or getting married.


Theme Features
Visual Composer page builder for easy layout customisation
Slider Revolution to create dazzling slideshows
Easy to use yet a very powerfull theme options
Unlimited colors
Responsive layout
5 custom post types (Events, Gallery, Bridesmaid & Groomsmen, History and Accommodations)
Count Down and Count Up Timer
Count down and count up timer, this timer countdown your wedding date and when the defined time has been reach it will count how long you have been married!
Custom Page Templates
Custom Widgets
Tons of useful shortcodes
Child theme support
Localized Translations
Custom logo & favicon
Lightbox
Filterable gallery
Homepage slideshow
AJAX RSVP form
Wedding events
Translation ready
Enable/Disable share buttons on each post / page
WordPress theme Customizer support
Purchase Confirmation
We encourage you to spend a minute of your time to confirm your purchase at http://www.themewarrior.com/purchase-confirmation/.
Checkout Other Wedding Themes from Us
Credits
Theme options by ReduxFramework http://reduxframework.com
Stock images are from Ryan Polei on Flickr http://www.flickr.com/photos/ryan_polei, Unsplash http://unsplash.com and Free stock images
Font icons by FontAwesome http://fortawesome.github.io/Font-Awesome/
Note: All the stock images used in the demo site are not included in the theme package.
Changelog
UPDATE:

Since version 2.5.0, there's a lot of changes on how ti build the layout. We're now using Visual Composer for the page builder and Slider Revolution for building slideshows..

March 25th, 2019 -- Version 2.6.0
- Update WP Bakery Page Builder plugin to v5.7
- Update Revolution Slider plugin to v5.4.8.3
- Fix undefined_index issue with guesbook VC element
- Add WordPress constant THEME_SLUG to replace $shortname
- Remove global $themename
- Update jQuery countdown library
- Update jQuery mixitup library
- Update jQuery Owl Carousel library
- Remove PhotoSwipe files and code referrences
- Remove default text when there's no sidebar widget
- Fix password protected page layout issue

May 31st, 2016 -- Version 2.5.0
- Page builder support using Visual Composer
- Add Revolution Slider support (remove previous Slideshow post type)
- Remove home widgets (replaced by custom Visual Composer elements)
- New mobile menu
- Improved gallery post type, now 1 gallery = 1 image
- Update FontAwesome files
- Replace prettyPhoto with photoSwipe
- Replace countdown & countup jQuery script
- Improve accommodation detail page
- New 404 page
- Bug fixes
- Layout tweak here and there

Feb 19th, 2016 -- Version 2.0.4
- Fix foreach issue in Bridesmaid & Groomsmen widget
- Update styles
- Make gallery into 3 columns
- Add support for title-tag
- Update ZillaShortcodes to v2.0.2

June 30th, 2015 -- Version 2.0.3
- Update prettyPhoto

April 12th, 2015 -- Version 2.0.2
- Update Redux Framework
- Add Gift Registry
- Add Bridesmaid & Groomsmen
- Add Guestbook
- Fix parallax issue
- Fix several responsive issues

December 8th, 2014 -- Version 2.0.1
- Fix parallax issue in countdown and rsvp widget
- Make location details pop without have to click on the map marker in Map widget

November 20th, 2014 -- Version 2.0.0
- Fix homepage widget margin issue
- Fix Google map zoom control
- Fix Safari issue when linking to element #ID
- Modify main menu dropdown arrow
- Minor cosmetic changes
- Modify how gallery detail page works
- Modify Event post type (please re-install Qaween plugin in order for Event post type to show up)

June 16th, 2014 -- Version 1.0.7
- Add missing text to .po file
- Update Redux Framework to v3.3.1.9

April 20th, 2014 -- Version 1.0.6
- Fix theme options issue
- Remove language parameter from map widget
- Fix child theme issue
- Fix date & time localization

March 18th, 2014 -- Version 1.0.5
- Add map & couple tweets widget
- Add new options to theme options
- Fix heart icon center position

March 11th, 2014 -- Version 1.0.4
- Enable subsets in all typography options

March 9th, 2014 -- Version 1.0.3
- Add RTL support
- Add missing option to change RSVP description text color

February 24th, 2014 -- Version 1.0.2
- Add missing share buttons in single.php, page.php and page-full-width.php
- Add Gallery taxonomy page template
- Modify Countdown widget layout in small screen

February 19th, 2014 -- Version 1.0.1
- Fix RSVP form widget issue
- Fix tracking code option in options panel

February 16th, 2014 -- Version 1.0.0
- Theme is released

Download Now