Download Now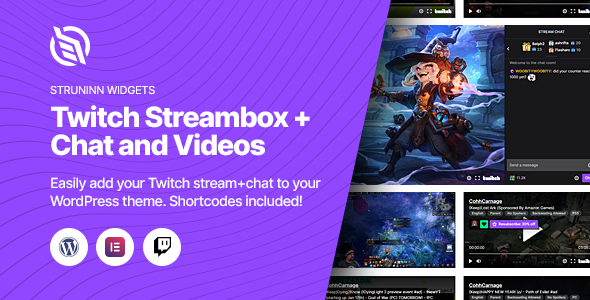 Struninn – Twitch Streambox with Chat and Videos
The Struninn for Twitch – Stream plugin allows you to easily display your Twitch channel videos and stream in your site!.
You can show your Twitch channel videos and stream by using any of the following options:
– Template Functions (Developer knowledge required)
– WordPress Shortcodes (Shortcode API)
– Elementor Widgets (Elementor plugin required)
Connect your Account!
Connect your Twitch account and the plugin will automatically grab all the info for you! We also included a subscribe button which will lead people directly to your sub page!
Easy to Use/Install
As an Elementor widget, this is really easy to install and use! Once installed the widgets will appear on the Elementor editor. After that, just drag them and start customizing!
WordPress Shortcodes
You can use shortcodes to display the widgets in WordPress posts and pages. Please check the docs WordPress Shortcodes page for more details.
Twitch Stream
You can use the stream widget to display your livestream, customization options include the ability to toggle chat, autoplay and muted audio!.
Twitch Videos
You can use the videos widget to display your channel videos, customizations options include amount and type of videos!.
Twitch API
Twitch requires that you register an application in order to be able to make requests to their resources (Twitch applications have rate limits). You can check the docs for more info
Download Now