Download Now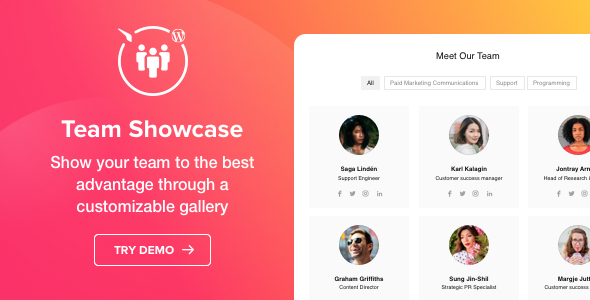 Elfsight Team Showcase will help you to introduce your team/staff members to users of your site. With the help of the Team showcase plugin, you can publish photos, contact information, favorite quotes, and a biography text about each colleague. Visitors will get a chance to contact them in one click thanks to active links and social icons.
Create categories and demonstrate the structure of your team, pick various layouts, change colors, and a lot more. Choose our team showcase plugin – increase the trustworthiness of your company, showing its real faces! 
Why is the Elfsight Team Showcase a perfect tool for you?
Our Team showcase offers many styling options, ready-to-use layouts and content settings to perfectly display your team or staff members. In a couple of clicks, implement all the changes in the online editor and increase trust in your business. 
This plugin is your choice if
you need to present your company and increase the client trust level
you want to make it easier for your clients to contact your team/staff members
you'd like to grow user engagement via photos, captions and social media links
you are looking for a working solution worth its price
Want to explore the Team showcase plugin for WordPress?
To see how well our Elfsight Team Showcase works, run our demo right now.


Tell more about every member of your team
With this plugin, you will be able to reflect the images and information in a variety of designs. The main purpose of the plugin is to display a team of employees, but you can also use it for other purposes.
It's perfect for displaying members of your staff, team, or workforce, even divided into categories or groups! You can also use it to display reviews or other content that requires images and text!
The feature list of the Team Showcase WordPress plugin
Show each team member with a photo, position, contact info, and detailed text;
Clickable icons of social media to go to a person's profile;
Popup opens on click with full details about a person;
Text field with formatting options to add a person's info;
Two variants to show groups: as a list or by one with a menu;
Editable label of the call-to-action button and many more!
Check out more Elfsight plugins to grow your business!
Most Elfsight users enjoy combining a few plugins to improve different aspects of their website functionality. It's so simple to run sales or announce special offers, engage more visitors, skyrocketing sales – just embed a couple of the Elfsight plugin. Here are the bestsellers rated by our users: 
Seamlessly integrate any kind of Forms (contact, booking and etc.) for your website
Share your Instagram content via awesome feed right on the web page
Announce discounts and events with customizable PopUp banners
How to add WordPress team showcase plugin on your website?
Our Team Showcase plugin has been developed to provide you with full control over every feature and styling options. You don't need any coding skills to make the Elfsight plugin look and work exactly the way you'd like them to. Installing the team showcase WordPress plugin on your site will take less than a minute. All you have to do is follow these simple steps:
Purchase the plugin, download its zip file.
Upload the setup zip to your site. During the step, make sure you are uploading not the whole plugin zip, but just WordPress installable zip.
Then open the main menu and go to the plugin settings section.
 Customize your Team Member plugin, save changes and copy your personal shortcode.
Paste the team showcase code into the required area of your website.
All done! Now the Team Showcase plugin is up and running!
In case you need any custom feature right now, feel free to contact Envato Studio for customization services.
FAQs
Q: Can I create categories or groups in the Team Showcase plugin?
A: Certainly! You can add unlimited categories and assign team members to them.
Q: What elements of the Team Showcase plugin can I customize?
A: You can adjust any elements of the Elfsight Team plugin (background, item background and text, call-to-action button and many more).
Q: What is the best way to use the Team plugin to demonstrate "our team" on my website?
A: Present your team in an orderly and clear manner and reveal your company's extensive structure. Spread your team into departments and use the Grid layout to simplify the navigation.
Q: What contact information can I add to the Team Showcase plugin?
A: Our plugin has fields to enter the email address, phone, location address and website of each team member. These details are clickable: users can seamlessly start writing an email, go to the website or see a location on Google Maps.
Q: Which website area can be used for the plugin installation?
A: You can embed the Team Showcase plugin into the different website area with no-coding. It's super adaptable and responsive to any screen parameters. 
Change Log – new version 1.3.1 is available for download
December 25, 2020 – Version 1.3.1
### Fixed
 * WordPress 5.6 compatibility issue
December 04, 2020 – Version 1.3.0
### Added
 * Option to set an external link to a team member
 * Social icons library
 * Option to hide All tab
May 19, 2020 – Version 1.2.0
### Added
 * New support form

### Fixed
 * Fix images upload issue
April 16, 2020 – Version 1.1.0
### Added
 * Translation options

### Fixed
 * Color options issue
Download Now