Download Now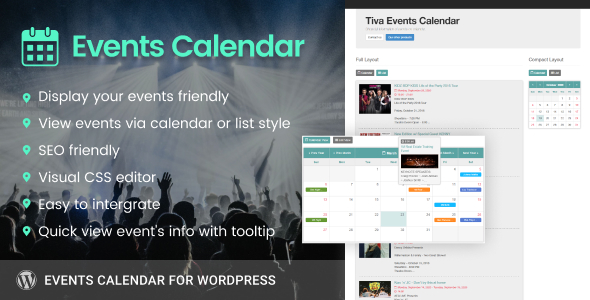 Tiva Events Calendar For WordPress is the best plugin, you can turn your existing WordPress site into a fully-featured event ticketing and registration site and a new way to monetize. With Tiva Events Calendar For WordPress, you get it all everything from online payments, custom registration forms and email, seat limits,… Tiva Events Calendar works perfectly for classes, seminars, fundraising, sports, training, conference, network, religion, social, non-profit and almost any other kind of event.
Tiva Events Calendar For WordPress can help make your business more profitable and efficient by helping you save registration money and ticketing fees, reducing countless hours of time you spend processing subscriptions manually.
If you have any advanced feature requests or custom development of your Website, please contact us at [email protected] for further discussion.
WHY USE EVENTS CALENDAR FOR WORDPRESS
Tiva Events Calendar For WordPress can make your organization more profitable and efficient by helping you save money on registration and ticketing fees, reduce the countless hours of time you spend manually processing registrations, and you will be open for business to accept registrations and payment 24/7.
If you're doing event registration and selling tickets in any other way then you're wasting time and money. We offer a great plugin for you so get started with your own online booking and event registration system today.
Events Calendar For WordPress Will Bring Many Huge Benefits
Tiva Events Calendar For WordPress is a simple yet powerful auto booking expert that works 24/7 to ensure your clients can book appointments or events and pay online even when you're sleeping!
For Customers
Instantaneous preview the available events
Easier in choosing months and days
Easy to use interface
Unlimited number of calendars to set
For Admin
Build a professional and trustworthy website
Easy event management and ticketing
Once created a calendar, possibility to modify each event, one by one or in group, at any time
Events Calendar For WordPress is the most powerful, flexibly used by a wide variety of businesses.
Salon & Beauty: Hair Salons, Nail Salons, Cosmetology Centers, Tanning Studios, Barbershops
Health & Wellness: Wellness, Spa & Massage, Aromatherapy, Baths; Aromatherapy, Spa, Ayurvedic Care Centers, Physiotherapy, Acupuncture, Chiropractic Care
Professional Services: Lawyers, Tax Consultants, Insurance Agents, Life Coaching, PR Services
Medicine & Clinics: Doctors, Dentists, Medical Centers, Ambulance Services, Ophthalmologists, Pediatricians
Education & Class: Education Centers, Tutors, Language Schools, Private Lessons; Schools, Colleges, Universities, Coaching Centers,
Fitness & Gyms: Yoga Classes, Personal Trainers, Health Clubs, Fitness Centers, Dance Instructors;
FULL FEATURE LIST
Tiva Events Calendar For WordPress is comprehensive, extremely user-friendly, and well-designed to display the event calendar on your website, easier than ever.
Custom services schedule

Take advantage of full scheduling flexibility with the custom services schedule feature – configure the working hours and breaks individually per service and employee combinations.
Custom Fields for booking forms

Construct the booking form to match your business best – configure the custom fields (checkboxes, text areas, etc.) to collect any additional necessary information from your customers.
Events

Configure one-off or repeating events like conferences, classes, meetups, concerts, or anything else – provide a smooth and easy front-end booking interface and comprehensive attendance management in the back-end!
Google Calendar Synchronization

Let your employees keep track of all appointments in their own Google Calendar.
Search interface for bookings
A convenient search-like interface to look for a suitable service, employee, and time by choosing one or more filter criteria.
Calendar and list view
Amelia provides multiple options for managing the workflow, depending on the level you want to track: monthly, weekly, daily calendar view, timeline, or just an interactive list of appointments.
Manage multiple employees
Keep employee's contact data in the WordPress database, manage individual load and performance, configure personal working schedules, and days off.
Group appointment bookings
Appointments do not always have to be individual – Amelia supports group bookings as well (e.g., for group excursions). Each service can have minimum and maximum capacity.
Support for multiple services and service categories
No matter how many different services do you provide, you can add all of them, configuring individual duration, price, and other parameters.
Admin Calendar View
Tiva Events Calendar For WordPress is plugin which help you to manage and display all events on calendar.
Management events in admin site
Tiva Events Calendar For WordPress business owners and managers with a dashboard page that summarizes all business-critical KPIs and displays them in widgets, charts, and tables,…
Flexible layout
With many styles and options, you can customize your calendar easily. There are 2 layouts for your choice: full layout and compact layout.
Multiple event views

With a nice popup, users can quick-view events for each day, view event list and event detail. Your events will be displayed lively and logically.
Visual Schedule Builder
Designed for fresh WordPress users, you can set everything up with a few clicks. The schedule options are intuitive and easy to customize.
Search events
Viewers can easily search and find events with a built-in search bar with optional advanced search
Recurring events
Do you want your events to repeat on certain days of the year or during the month or different days or whatever you want? Best Tiva Events Calendar For WordPress (MEC) for you to protect.
Unlimited images
Set unlimited images for an event to create a vivid gallery about the event for your visitors
Geographical location
Using this feature, your users can easily find available events in their area.
OTHER FEATURES
Tiva Events Calendar For WordPress is a feature-rich web calendar plugin. Use the event calendar software to create and manage events, important tasks, and meetings.
Multi Language – Currency
Allows you to easily convert and customize currency and language.
MULTI-DAY EVENTS
You can create events that last more than one day
FILTER & SORT EVENTS
Visitors can easily filter and sort events to find exactly what they are looking for
CUSTOM TIME FORMAT
You can easily change the date and time format of events to the desired format universally.
EVENT COLORS
Colorize events individually or by event type to make them stand out
Responsive and Mobile-Friendly
Display all your calendar and event views perfectly on all devices.
If you like our product, please don't forget to review and rate it
. We will support you as soon as possible.
Connect with us:
Changelog

Version 1.5 (20 Sep 2016)
    - Fix : Remove bootstrap to avoid conflict with theme.

Version 1.4 (10 Jun 2016)
    - Fix : Link to event detail on event list.
    - Update : Add option max number of events dislayed on list.

Version 1.3 (10 Jun 2016)
    - Fix : Error of variable in js file.

Version 1.2 (08 Jun 2016)
    - Fix : Sort events more logically in list view.
    - Fix : Problem when click back button.

Version 1.1 (02 Jun 2016)
    - Update : Add end time for event.

Version 1.0 (26 May 2016)
    - Initial release
Download Now