Download Now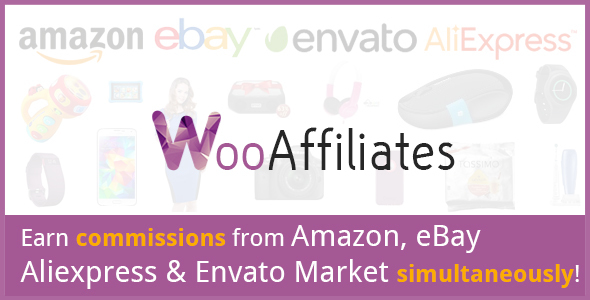 WooAffiliates is the most complete affiliates plugin on the Market!
We've combined all major affiliation programs : Amazon, eBay, Aliexpress & Envato Affiliates into one major Affiliation WordPress Plugin!
The WooAffiliates plugins allows you to mass import products from all affiliation programs in the same time! That way you can earn commissions from Amazon, eBay, Aliexpress & Envato Market simultaneously!
Amazon is the world's largest online retailer, and their affiliate program is the world's most popular affiliate program.
Amazon offers affiliates a commission of up to 10% for direct sales of certain products.
There are various advantages to Amazon's associates program. As a matter of first importance, it's controlled by one of the world's most trusted organizations, giving affiliates certainty that their commissions will be paid out on time, without fail.
Second, Amazon's tremendous product range implies that the affiliate program is suitable for a massive variety of marketers and bloggers. From games hardware to sunglasses, an Amazon associate can earn generous commission on almost any type of product.
Choose to import from any Amazon Location – Worldwide, Amazon Germany, Amazon United Kingdom, Amazon Canada, Amazon France, Amazon Japan, Amazon India, Amazon Italy, Amazon China, Amazon Spain.
AliExpress is a wholesale marketplace provided by Alibaba.com, the world's largest B2B online marketplace. It has millions of products, unbeatable prices & thousands of sellers.
The more sales you generate the more you'll earn. Aliexpress commission rates vary by product, with some rates as high as 50% and is free and easy to join.

eBay pays affiliates based on the traffic sent, with the amount paid per transaction based upon a percentage of eBay revenue.
Pricing is based on category-level commission rates, with bonuses paid for attracting new and reactivated eBay buyers. Essentially, the more revenue your traffic generates for eBay, the more you'll be paid.
Choose to import from any eBay Location – eBay Austria, eBay Australia, eBay Switzerland, eBay Germany, eBay Canada (English), eBay Spain, eBay France, eBay Belgium (French), eBay Canada (French), eBay UK, eBay Hong Kong, eBay Ireland, eBay India, eBay Italy, eBay Motors, eBay Malaysia, eBay Netherlands, eBay Belgium (Dutch), eBay Philippines, eBay Poland, eBay Singapore, eBay United States, eBay China, eBay Russia, eBay Sweden & eBay Taiwan.

Envato Market has over 9,052,535 items for sale. If you refer a user who signs up and makes a purchase or cash deposit on any of the Envato Market sites, you will receive 30% of their initial spend, that means 30% commissions for you!
Also, there a 90 days cookie feature that will get you more revenue! Once a user gets referred to any of the Envato Market websites, they have 90 days to sign up before the cookie expires.
As extra bonus the plugin comes bundled with a custom eCommerce Theme perfectly suited for WooAffiliates! But it also works with any wordpress theme as well.

Other Plugin Options & Features
Import Attributes allows you to import product attributes from Amazon.
You can also select what attributes to select.
Also, you can choose to beautify attribute title , this is great for SEO.
Select to import products with variations as well.
Setup to publish products automatically upon import, or import them as draft and publish them after!
Setup the request type. You can leave it to auto detect, or select XML or SOAP Request.
Use the External server country detection for the GEO Location feature. This detects the user's IP and sends him to the nearest Amazon Affiliate website.
You can show the amazon buy URL in the link or you can keep it hidden.
Gallery – Setup if you wish to display a gallery images into the product's description area.
Product Short Description – Setup if you wish to display the product short description, also known as excerpt.
Show "Free shipping" on products that have it available.
Amazon Coupons – Take advantage of huge deals using amazon coupons! Cupons are automatically imported if they are available on Amazon.
eBay – Product description type – setup when importing ebay products the type of the description – HTML or plain text
DISCLAIMER
AA-Team does not permit, under any circumstances, the reselling of any of our plugins / themes outside the Envato Marketplace.
The Extended License does not allow you to resell / redistribute the plugin without written permission from AA-Team.
If you're an Envato Author and wish to include our plugins into your themes, please contact us.
You can read more about licenses here and here.
Download Now