Download Now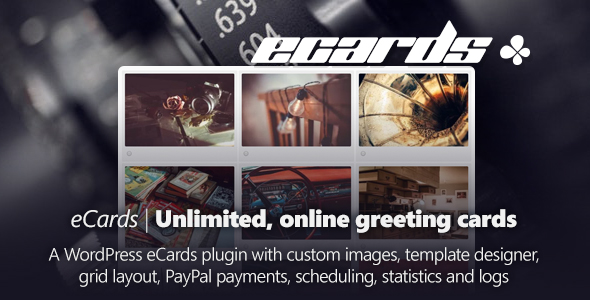 New Feature: eCard Collections
New Feature: Better back-end performance
New Feature: Reusable block for the eCard email template
NEW! Version 5.0.2 is out and it brings more speed and more Gutenberg compatibility! Create your personalized email templates and use tags and shortcodes to include custom details and content. Read more here.
WordPress eCards is a WordPress plugin used to send electronic cards to friends. It can be implemented in a page, a post or the sidebar. Start your own eCards site! Be it Christmas, Valentine's Day, Easter or Halloween, the eCards plugin works for everything.
eCards makes it quick and easy for you to send an eCard in 3 easy steps. Just choose your favorite eCard, add your personal message, and send it to any email address. When you send an eCard using this plugin, no personal information is stored in WordPress database.
eCards sends any embeddable image, be it JPG, PNG or animated GIF. If no image is found in the post, the eCard is still delivered to its recipient. eCards uses WordPress internal mail sending functions. Save eCard senders as WordPress contacts and export or synchronise them with MailChimp!
What customers are saying
⭐⭐⭐⭐⭐ This is the most awesome plugin I have used in a long time. My site funeral.com incorporated this into the site to allow users to send eCards to the bereaved. It's Perfect, well thought out and works perfectly. Highly recommended and worth every penny. One can sell their eCards also which at this time we are experimenting with the free version.
⭐⭐⭐⭐⭐ An excellent plugin and the customer support is superb. Any question I have had has been answered promptly and completely. Very happy!
⭐⭐⭐⭐⭐ Installed this plugin on a charity's website and it's working nicely. Features are pretty much what I'd expect. Glad it's not overloaded with settings. It does seems improved, compared to an earlier version I tested a year or two ago. It's a really important tool for us, because last Christmas we made ~£600 from donations by people clicking a link in e-cards. This year we're aiming for over £1,000.
See official site for the full eCards changelog.
Note: Only the current version – 5.1+ – is supported! Please upgrade before asking for support.
Download Now